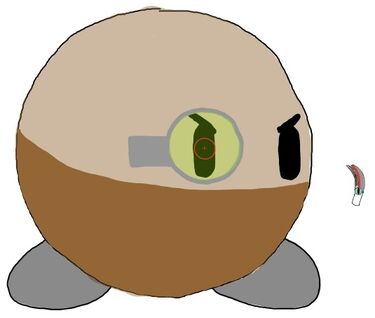 The Masked Assassin is a Dark type fifi from Zmania. He finds fifis that have wandered away from their group. All we know is that he appears, then the fifi takes a really really really really really really really really really really really really long nap. Then they wake up and walk away. Except for the fact that they forget their entire life and who they are.
The Masked Assassin does not work without help, he uses various gadgets that aid him in his crimes.
Bronze Crossbow: A crossbow made of solid bronze. It shoots poison tipped bolts that are silent to even the most aware of creatures.
Hang Glider: The assassins hang glider he uses to get around the planet. It is sleek, and had a fog machine to disguise it at a cloud, this works well when flying behind airplanes. It has a detacher so he can fold up the glider and fall to the ground.
Eyepiece: Stolen from the Zmonian Military, The Masked Assassin modified it to function as many other things, these upgrades are unknown but we know it can locate targets from across he planet.
Cat's Eye Knife: Crafted form the demon's forge in the Underworld, this blade is enchanted with memory wiping.